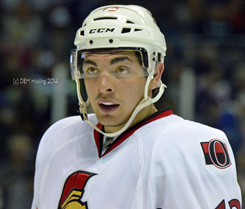 www.eliteprospects.com
Fantasy Summary
Power winger with third-line upside.
Observations
Click to Expand

October 2020 – After spending the majority of last season in the NHL, Paul will look to firmly entrench himself as an NHLer this upcoming season. He plays a good, stable game in the bottom six and should be able to lock down a role on the third or fourth line in training camp. He may not be what we thought he could be at one point but he should be able to find a role at the NHL level. Tony Ferrari 

February 2020 – Nick Paul has been with Ottawa for the majority of the season and has flashed the power forward template at times that has been advertised for years. His production hasn't really been there this year with just 16 points through 49 games but he has been playing in the bottom-six for the most part, which is made worse because it's the bottom-six of a team near the bottom of the standings. Nick Paul's real test will be next year as the Senators are likely to bring in some talent through free agency and the draft as well as injecting some youth from their prospect pool. Tony Ferrari

October 2019 – Paul was called up to the Senators this month and has started to show what makes him an intriguing option in the bottom-six. He has been able to display his skill as a power forward on the wing and even though there isn't a ton of production yet, he looks like he belongs in his brief stint in the NHL thus far. He is likely one of likely many players that will be up-and-down between the AHL and NHL this year. Tony Ferrari

April 2019- While the Belleville Senators season came to a disappointing end, narrowly missing the playoffs, Paul had a phenomenal year. His three previous point-per-game records in the AHL were .378 in 2016, .514 in 2017, and .5 in 2018. This season, Paul exploded to .907 points-per-game! When deployed with skilled players, Paul is truly able to excel. He played a major leadership role in Belleville this year and showed a penchant for scoring clutch goals. Already possessing the skill to succeed, Paul plays a complete game that will translate well to the NHL. If the new coach in Ottawa is able to deploy Paul properly, they could have a solid middle-six contributor next year. Jordan Deshane

March 2019 – Paul has had an outstanding year for Belleville. He has excelled while playing in the top-six and getting extended power play time. He has played 20 games in Ottawa this year with limited success offensively. The majority of his time was spent with the bottom-six. On a team that only has six of their 38 rostered players having positive possession numbers, Paul sits fourth in Corsi For %, controlling 52.12% of all shots directed at the net while he's on the ice. Should Paul be able to graduate to Ottawa full-time next year with his mates Logan Brown and Drake Batherson, he could be successful if put in a position to succeed. Keep your eye on him as he may be a potential late-bloomer. Jordan Deshane

September 2018 – Paul has been cut from the Senators training camp and, maybe even a more condemning sign, cleared waivers. The final remnants of the Jason Spezza trade, it's beginning to look like Paul will amount to nothing more than a minor leaguer. Hopefully for Sens fans, the pieces they got in the Erik Karlsson trade produce better results. Brad Phillips

April 2018 – Three years into his professional career and Paul is still struggling with the same issue that has plagued him in previous seasons, consistency. Case in point: Paul endured a 21-game stretch over the course of three months from November to the end of January that saw him record only four points, but followed that up with a run of 19 in 25 games to finish the season. Add it all up and Paul finished second on Belleville in goals with 14, with a team high seven powerplay goals, and finished in a three-way tied for third on scoring with 27 points. This was only five behind team leader Filip Chlapik which tells you just how truly pathetic the Belleville offense was. Paul once again managed to get called up to Ottawa for an 11 game stint and scored a goal but was used sparingly, never seeing more than 10 minutes in any game. Currently an RFA, I'd say there's an extremely high likelihood that he gets a second contract as he occasionally shows glimpses of the player he can be when he puts it all together. This is a critical year coming up for the power forward. Brad Phillips

September 2017 – Paul put together a pretty decent second AHL season with 15 goals and 36 points in 70 games for a terrible offensive squad in Binghamton. He finished third on the team in points and fourth in goals, despite being one of the younger players on the team. He managed to get into one NHL game this year, the season finale. The main thing holding Paul back at this point is his consistency. When he's on, Binghamton coach Kurt Kleinendorst describes him as "a beast." But more often than not he doesn't bring it on a nightly basis. Due to the number of wingers already under contract and Paul's waiver exempt status he'll most likely spend another year in the AHL. He's probably still two to three years away from being fantasy relevant. Brad Phillips

November 2016 – Paul has gotten off to an abysmal start this season with just four points in the first 15 games and didn't score his first goal until the 14th game of the year. The team is struggling to score as a whole, but it's not a good sign for someone that is primarily billed as a goal scorer. Brad Phillips

October 2016 – Despite a dominant development camp, rookie tournament, and a solid showing in the main camp, Paul has been cut and will start the season in Binghamton. He'll look to make significant strides offensively in his second pro season as the first one was below expectations. Brad Phillips

September 2016 – Paul is no doubt gunning to open the season with the big club, and a rash of recent injuries open the door wide open for him. After earning the award for the Hardest Working Player in the summer development camp, Paul doubled down in the recent rookie tournament where he was a dominant force. In the final game of the tourney, a 6-3 victory over Montreal, Paul scored two goals and assisted on one other. He'll be looking to parlay his recent strong play into an opening day roster spot. With Curtis Lazar battling mono and Clarke MacArthur's career possibly over due to yet another concussion, the opportunity is there for him to seize. Brad Phillips

February 2016 – Paul notched the first goal of his NHL career against the Edmonton Oilers. The goal was a perfect example of what will make Paul a successful NHL player; using his big body to get to the front of the net and banging home a rebound. In addition to the goal Paul has also recorded one assist in his first four games. Brad Phillips

February 2016 – Despite a far-from-dominant fist professional season, and after coming close on a few recent occasions, Nick Paul skated in his first NHL games. It wasn't much to write home about, seeing just under 11 minutes of ice while skating on the fourth line, registering one shot on net and two hits. Nevertheless, it's a positive step towards a bright NHL future for Paul. Brad Phillips

February 2016 – Paul will get his first taste of NHL action having been recalled from Bingo. The callup is somewhat of a surprise given that he hasn't exactly dominated the AHL thus far with six goals and 11 assists in 43 games. With the Sens toiling near the bottom of the standings it doesn't hurt to see what Paul is capable of at this stage of his development, although he is likely slated for fourth-line duty to start. He's the only hope Sens fans have remaining for the Jason Spezza deal with Alex Chiasson failing to producing and Alex Guptill struggling to stay in the lineup in the ECHL. Brad Phillips

November 2015 – So far Paul's first foray into the professional ranks hasn't gone as smoothly as one would hope as he has been unable to replicate his success at North Bay. 15 games into the season, Paul is still seeking his first goal but has picked up six assists. His play overall has been hit and miss even earning a recent healthy scratch along with fellow prospect Tobias Lindberg, but it has been better of late. It might take the big man a little more time to get going, but more points are sure to come. Brad Phillips

May 2015 – Nick Paul's OHL playoffs consisted of being put up against top players. In the first round Paul was matched up against Sam Bennett and was able to shut him down and out score him as the Battalion swept the series. In the second round Paul was matched up against 100-point winger Andrew Mangiapane limiting him to only two goals in five games. Nick Paul then was faced with matching up against the bigger bodies of the Oshawa Generals including Mike McCarron, Hunter Smith and Micheal Dal Colle. Throughout the playoffs, Paul was still able to limit scoring of some of the best OHL players while adding his own offensive flair to games. Benjamin Gallant

February 2015 – After going undrafted in his first year of OHL draft eligibility, Nick Paul's development has been on a sharp upward trajectory. Paul earned a spot on Team Canada's 2015 World Junior gold medal winning squad, scoring three times in seven games. Playing in his third year with the North Bay Battalion, Paul continues to build upon his previous seasons' stats. Through 36 games, Paul sits second in team scoring with 23 goals and 42 points and will blow past his previous career highs of 26 goals and 46 points. As an alternate Captain with the Battalion, look for Paul to help lead his team deep into the OHL playoffs as his team contends for a Memorial Cup berth. A versatile forward with admirable size and strength, Paul is a winger with great two-way awareness that should earn him a quicker ticket to the Senators big club. Brendan Ross

October 2014 – North Bay forward Nick Paul has been named to the OHL's roster for the upcoming Subway® Super Series and will compete in the November 13th game in Peterborough. Paul has experienced quite the development curve and continues to get better, specifically in his ability to create and drive North Bay's offense. Brendan Ross

September 2014 – Nick Paul will rejoin the North Bay Battalion to start the 2014-2015 season. Paul is a big, physical winger with strong puck possession skills. He's a bull in the corners and has the neutral zone awareness to line up big open ice hits. He drives the net hard and has a strong shot. Paul can take the next few years to work on his skating, but he has the intensity and work ethic to be a physical forward in the NHL. Nathan Martin

July 2014 – Nick Paul was traded to the Ottawa Senators along with winger Alec Chaisson, Alex Guptill and a second round pick in 2015 for center Jason Spezza. Brendan Ross

July 2014 – in 66 games in his first full OHL season with Brampton, Paul tallied 12 goals and 16 assists while maintaining a plus-6 for the Battalion. The Mississauga native, along with the rest of the club, struggled through their 2013 playoff run and Paul finished with just a single assist and a minus-4 rating.  In his sophomore year, Paul took on a bigger role and began to contribute at a higher pace.  In 67 games with the relocated North Bay Battalion he found the back of the net 26 times and added 20 helpers.  The Battalion bounced back the following post season making a strong push to the OHL finals, ultimately losing to the Guelph Storm in five games.  Paul was certainly a presence for North Bay, scoring 18 points in the teams 22 games (12 goals, six assists) and maintaining a plus-9 rating.  Paul is a physical forward who plays strong along the boards in all three zones and also has a knack for the open-ice hit.
Highlights