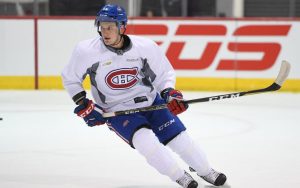 Mathieu Lavigne
Fantasy Summary
Bottom-six role player. Low-range scorer with fantasy appeal in multi-category leagues with PIMs and hits.
Observations
Click to Expand

January 2023 – Michael Pezzetta's development as a player has been incredibly entertaining to watch. After getting called up due to injuries piling up in the disastrous 2021-22 season, Pezzetta played his way into a one-way contract for 22-23. From a fourth line grinder in the ECHL, to a fourth line grinder in the AHL, to a fourth line grinder in the NHL, Pezzetta never looks out of place. Now, with injuries piling up again, Pezzetta has seen chances on the penalty kill and the second line. He isn't likely to stay there, but he plays an important role for NHL teams. While it is hard to imagine he emerges as a superstar, he has found magic on a line with fellow Laval Rocket alumnae Alex Belzile and Rafael Harvey-Pinard. He has a good shot, and deceptively good speed for a player who's weighing in at nearly 220 pounds. He hits hard, and isn't afraid to stand up for his teammates. He's a fan-favourite and a fantastic locker-room presence. He may find himself in the press box for 30 games per season, but Michael Pezzetta should be in the NHL for a long time. Aaron Itovitch

November 2021 – After a few seasons of being a physical bottom-6 forward for the Laval Rocket, Pezzetta has broken out early in the 2021-2022 season. He has six points in eight AHL games, and has earned his first ever NHL call-up. Expect him to play a high energy physical brand of hockey. Pablo Ruiz

March 2019 – In the first year of his contract with the Habs Pezzetta has played as expected. Now a rookie for the Canadiens' AHL affiliate, the Laval Rocket, he has four goals and seven points in 40 games. The young bruiser also has 48 PIMs during that same span. With Froese and Chaput having been traded, Pezzetta has been given more responsibilities and is currently the team's fourth-line center.

 

Jesse Sherman

March 2018 – Pezzetta was rewarded for a strong "senior" season in the OHL and signed an NHL entry-level contract with the Montreal Canadiens. The left-winger is up to 19 points in 23 games with the Sting and even has a positive plus-minus rating for the first time in his career. He will compete for a spot with the Laval Rocket next season. Mike Barrett

February 2018 – Possessing a nice combination of size and skating ability, Pezzetta was a highly touted OHL pick going in the first-round, 11th overall to Sudbury in 2014. He was never expected to be the league's leading scorer, but his athletic attributes and work ethic gave him an opportunity to compete right away. He made team as 16-year-old and showed some improvement in his sophomore year. Pezzetta was then drafted by the Habs and came back with a really rough 2016-17 season statistically; which oddly enough was a resurrection of sorts for the Wolves franchise with 27 wins after just 28 in the previous two combined. But, in his fourth and likely final year in the OHL, Pezzetta has exploded offensively already nearly doubling his career high in goals and producing at a point-per-game rate since his trade to Sarnia. All of his goals either seem to come from right around the net or by beating goalies with a sneaky wrist shot after burning the D with speed to the outside. Pezzetta importantly also has a great motor which accentuates his abilities.

He is tenacious on the forecheck and always seems to have his feet moving. Consistently causes problems for the opposition because of his skating. An opportunistic scorer who possesses some creativity and vision, but will also drop the gloves if necessary. The combination of his particular skill-set will make him a desirable player for coaches at the next level.
Highlights