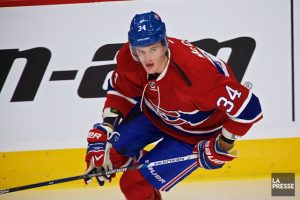 Fantasy Summary
A hulking winger with imposing size that is well suited in the bottom six.
Observations
Click to Expand

March 2020 – Since being acquired by the Nashville organization from Montreal in January, McCarron has fit in very well to the Milwaukee scheme.  His size and robust play have only added to the already physical brand of hockey of the AHL leading Admirals. The former Montreal first-round pick in 2013 seemingly never lived up to the top billing for the Canadiens but continues to show his value an excellent organizational depth piece.  McCarron's board play and ability to shield the puck are his forte. Since being the change of scenery, he has shown more of a scoring touch in front of the net burying loose pucks and is up to 10 goals with Milwaukee. Should he refine his skating and work his way up into the Nashville lineup, you can count on serious multiple stat categories for fantasy in hits and penalty minutes. Nicholas Kawka

May 2019 – It was a tough year for McCarron who signed a one-year "show me" contract with the Canadiens as a restricted free agent last fall. The 24-year-old did not make the big club out of camp and played the majority of the year for the Canadiens' AHL affiliate, the Laval Rocket. With seven goals and 21 points in 32 games, his improvements on his prior campaign were marginal. McCarron didn't play a game in 2019 and it was announced in February he would miss the remainder of the season after undergoing shoulder surgery. If he has a future in the NHL, it will likely be as a physical bottom-six player. Now a restricted free agent for the second time, it remains to be seen if he will continue in the Canadiens' system. Jesse Sherman

April 2018 – As another disappointing season winds to an end,  Mike McCarron's career with the Montreal Canadiens may be in the same state. McCarron has been dressed for seven of the Canadiens' last eight games, but his impact has been minimal, if not negative. Skating on the fourth line McCarron has no points (0 for the season as well), just eight shots on goal, a minus 3 rating and taken three minor penalties. He has thrown 28 hits over that span, but most are post-puck possession and irrelevant to the sequence. He's never even been above 50% in a game in the faceoff circle since his recent recall. The former first-round pick has three more games to show something but his lack of confidence and the mounting pressure to succeed seem to be making things worse. McCarron will be an RFA this summer and may not be signing his next contract with the Habs if they decide he hasn't shown enough since being selected 25th overall in 2013. Mike Barrett

October 2017 – Mike McCarron has been called-up by the Canadiens a day ahead of their home game against the Florida Panthers. McCarron has been all over the stat sheet with two goals, two assists, 10 PIMs and 14 shots on goal in six games in the AHL. McCarron didn't have a great training camp, but his strong start with Laval has earned him a chance with the big club. He will center a talented fourth line with Alex Galchenyuk and recall pal Nikita Scherbak flanking him, as Head Coach Claude Julien looks to inject life into the losers of seven straight. Mike Barrett

November 2015 – McCarron's offense blossomed in his final season in the OHL as a leading scorer for London. He was traded to Oshawa where he became "just another" star on a team that went on to win the Memorial Cup. In the OHL players he was tied for the team lead in goals with seven. Now a pro, he is off a great start in the AHL for Hamilton, currently third in scoring – and he's just a rookie. Dobber

November 2014 – McCarron has improved greatly at the offensive end of the rink this year, as evidenced by his 19 points through just 10 games with the London Knights. He is already past the half-way mark to the 34 he posted last year in 66 contests. If he can continue to excel offensively it will obviously decrease the development time needed before he jumps to the NHL. Move him to the top of your watch list in your multi-category keeper league. Eric Daoust

October 2014 – McCarron looked much better at the Canadiens' training camp as he looked to be much stronger and more willing to throw his weight around. His camp was cut short due to a shoulder injury and he will spend this year with the OHL's London Knights. Eric Daoust

June 2014 – McCarron picked up his offensive output down the stretch as he finished with 14 goals and 34 points in 66 games along with 120 PIM for London. He added a decent playoff showing with five points in nine games. While the improvements are definitely a positive sign, McCarron still has a long way to go at the offensive end of the rink. Unless you are in a multi-category league, he is probably not worth owning because even if he makes the jump to the NHL within the next year or two, the points will not come for several years. Eric Daoust

November 2013 – McCarron is off to a slow start to his OHL career with just eight points in 22 games. While his size and physical play are not in question, his offensive game remains a work in progress. Eric Daoust

September 2013 – McCarron had a good showing at the Canadiens' training camp but is still a year or two away from being NHL-ready. He will play for the OHL's London Knights this year. Eric Daoust

July 2013 – McCarron signed a three-year entry-level contract with the Canadiens. Eric Daoust

July 2013 – McCarron was selected 25th overall by the Canadiens. There is a major need for size and toughness in the organization so he will receive plenty of opportunities to make his mark in Montreal. Eric Daoust

April 2013 – Michael McCarron is a big boy, and he loves to throw that big frame around and hit everything he sees.  His board play is impressive and he has a quick and powerful shot although not incredibly accurate his shots tend to give great rebounds. The upside is definitely there but as of right now McCarron is more of a grinder with some good presence in front of the net. He will create some opportunities against top lines and definitely agitate wherever possible.
Highlights