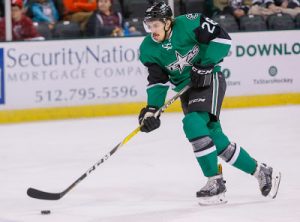 Photo courtesy of Andy Nietupski
Fantasy Summary
Stransky combines size and skill to be an effective power forward at the minor-pro level, however his footspeed and lack of elite hockey IQ may prevent him from ever reaching the NHL.
Observations
Click to Expand

October 2017 – Stransky signed a two-year deal in the KHL over the Summer. Somewhat of a curious move by Stransky, as he appeared to be progressing nicely in the AHL. He's now moving into his mid-20's, so a move to Russia is not promising. Stransky may find something in the KHL that will motivate him to make it to the NHL. Not worth the risk in fantasy formats at this point. Matt Kowalski

February 2017 – Stransky has enjoyed a productive season for the Texas Stars in the AHL. He continues to display his ability to score goals. This is likely his best season as a pro, and it's coming at the perfect time. The Dallas club has been struggling this season, and with possible trades looming, Stransky could find himself in the NHL. I would expect Dallas to see what he can do in a third or fourth line role before the season is over. -Matt Kowalski

August 2016 – The Stars resigned Stransky to a one-year contract in July, and with the Stars a little light on the wing, there might be an outside chance he cracks the roster. The red flag on Stransky has always been his skating, but he did seem to improve as the season went on last year. Like Brett Ritchie, Stransky fits the power-forward mold, yet Ritchie brings a much higher pedigree. Ritchie is certainly higher on the pecking order, but if injuries occur Stransky could find himself with the Dallas Stars. –Matt Kowalski

November 2015 – Is this finally the year for Stransky? After a junior career that saw him rack up 192 points in 213 games, his professional career hasn't been anywhere near as productive. But through the first 10 games of this season, he has racked up 10 points, already half way to last years total. It's a nice start but there's still a long way to go. The timing is right as Stransky is in the final year of his entry level deal, so motivation shouldn't be an issue as he's playing for his next contract. Brad Phillips

 

September 2015 – Since turning pro, Matej Stransky has struggled to replicate the offensive prowess that he demonstrated in Saskatoon. This past season, his second with Texas, was actually even more underwhelming than his less than stellar rookie year. Despite playing in 70 games, Stransky only managed to put up seven goal and 12 assists, both less than his rookie year. Call it an adjustment period if you like, but the lack of production through 135 professional games in definitely raising a few red flags. Given these past two season, it's prudent to temper your expectations for Stransky going forward. Perhaps it shouldn't be seen as a disappointment given his draft position, however it's hard not to be after his final two seasons in the WHL. With a number of other prospects coming to Texas this year, Stransky needs to step his game up in a big way. -Brad Phillips

September 2014 – Matej Stransky has been assigned to the Texas Stars of the AHL. Stransky should be highly motivated to try and regain some of the lost luster from his prospect star following his disappointing rookie season in Cedar Park. Rex Doty 

September 2014 – Stransky is among the Stars prospects who has received an invitation to their 2014-15 NHL training camp. There is no chance of Matej earning a spot but it will be a good learning experience before rejoining the AHL Texas Stars. Stransky will be looking to improve upon his rookie AHL numbers which seen him post just 23 points in 65 games and a team worst minus-13.

April 2013 – Stransky posted another strong season with the WHL's Saskatoon Blades. He followed up his 81 point sophomore season with 85 points this season in 72 games, tied for the team lead. Matej also finished a plus-32 and added 88 PIM to the point total. It looks like the time has come for him to take the next step and join Dallas' AHL affiliate. Rex Doty

July, 2012 – Is having a strong development camp. Interesting observations on him here. "I was told by some people with the team that they believe Matej Stransky could be the next superstar for the team. A very large right winger, Stransky possesses Jagr-like ability at protecting the puck and has the offensive ability to go along with it. He needs to work on his release, however, or he'll never become the big scorer at the NHL level that some are expecting from him in the future." – Dobber

April 2012 – This big Czech winger is starting to look like a late round steal. Stransky plays with a lot of energy and is starting to show an impressive array of offensive skills. On the season he put up 81 points in 71 games. That is a 55 point improvement from the 26 points he registered in his rookie year. Look for Stransky to be one of the WHL's most dominant forwards next year.
Highlights