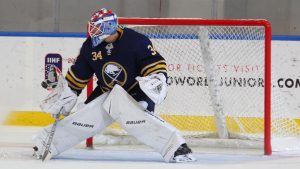 NHL.com
Fantasy Summary
A large goaltender with good numbers on good teams, and bad numbers on bad teams
Observations
Click to Expand

October 2022- Less than two weeks after Arizona claimed Johansson from Colorado off waivers, the Avalanche have claimed him back. The Swedish netminder suited up for one preseason game for Arizona, stopping 24 of 28 shots against Vegas Goldon Knights. The Coyotes had planned on giving Johansson a solid look, but an injury kept him out of the lineup for the rest of preseason action. After Arizona claimed Connor Ingram off waivers, it made Johansson expendable, and he was placed on waivers. He now begins his third stint with the Avalanche. Keith Duggan

October 2022- In the first day of waivers, Arizona claimed Johansson from Colorado as the team tried to get their first batch of cuts to the AHL. He will now compete with Jon Gillies and Ivan Prosvetov for the backup position behind Karel Vejmelka. The 27-year-old appeared in 11 games last season (eight starts) between the Avalanche and Florida Panthers. He posted a 3-4-1 record, .852 save percentage and a 4.81 goals-against average. A well-traveled goalie, Arizona now marks his fourth NHL team since his debut in 2019. Keith Duggan

December 2021 – Johansson has been claimed off waivers by the Panthers. With the return of Francouz rom injury, the Avs chose to let Johansson go in favor of the more veteran netminder. Hayden Soboleski

November 2021 – Johansson is back as the backup with Francouz on the IR yet again. Through four starts he has put up one stinker but three outings well-above league average (0.919 sv% or higher). His long-term certainty will remain in doubt, but in the short-term fantasy owners could do much worse than the backup for the red-hot Avs who will win more than they lose. Hayden Soboleski

September 2021 – Johansson is returning to the Avs crease for 2021-22 but the healthy return of Francouz means he is second in line for the backup role. Both netminders in front of him have injury histories that indicate he will still get NHL starts, but until those opportunities arise expect him to spend his time as the 3rd goalie and have minimal fantasy value. Hayden Soboleski

April 2021 – Moving from the Sabres to the Avalanche works wonders for the fantasy career. In 5 contests with his new club, Johansson has 3 wins, 1 shutout, and a .929 save percentage. Unfortunately, the team brought in veteran Devan Dubnyk at the trade deadline to serve as the 2nd-in-command in the crease so Johansson may not be in the picture as often going forward. Grubauer is currently on the Covid protocol list so enjoy one more stretch with the newbie, and come this offseason remember how drastically his results depended on his team. Hayden Soboleski

March 2021 – After an unimpressive 8-game stint with the Sabres where he managed just an 0.883 sv% (albeit on one of the worst teams in recent memory), Johansson has been traded to the Colorado Avalanche. Due to injuries, the organization has been transacting players between AHL, taxi squad, NHL, and emergency loan constantly and this should let them settle players down a little bit. Hunter Miska has been unimpressive himself in the backup role so until Francouz returns from injury (ETA still unknown) Johansson may get a crack at the coveted position. Hayden Soboleski

August 2020 – Johansson split starts with Andrew Hammond during the Rochester Americans' 2019-2020 AHL season. In 22 games, Johansson recorded a save percentage of .921 and a GAA of 2.28. His GAA was ranked sixth among goalies in the AHL this year, and his save percentage was ranked seventh. During February and early March, he also played six games with the Buffalo Sabres — the first six games of his NHL career. At 24 years of age and after two seasons in the ECHL, Johansson has made significant strides. He continues to possess NHL potential and may be able to expand his duties next season in the AHL as Hammond is a pending UFA. Johansson will be an RFA at the end of the current season. Kevin Wong

February 2020 – Jonas Johansson grabbed his first career NHL win against the Winnipeg Jets on February 23rd. Since his call up, he has appeared in four games and owns a 2.28 GAA and a .910 SV%. But, with Linus Ullmark skating and getting close to coming back, it likely will not be long before Johansson is back with the Rochester Americans. Josh Tessler

January 2019 – With the injury to Linus Ullmark, the Buffalo Sabres have called up Jonas Johansson. In 20 appearances in net for the Rochester Americans, the Swedish netminder has recorded a 2.19 GAA and a .925 SV%. Given the outstanding season that Johansson has been having with the Americans, he was voted to represent Johansson at AHL All-Star Game. Since Carter Hutton has been rather rusty in net for the Sabres, Johansson could get a decent amount of work in net. Josh Tessler

October 2019 – Jonas Johansson has been crushing it in net for the Rochester Americans. In five appearances, he has mustered up a 1.75 goals-against average and a .934 save percentage. Unfortunately, Johansson is in a timeshare with former Ottawa Senators goaltender Andrew Hammond, but he has made the most out of his appearances between the pipes. Johansson will likely see even less time in the net when Ukko-Pekka Luukkonen returns to the lineup in early November. Luukkonen is projected to be the Sabres' number one goaltender in the next few seasons and the Americans are likely going to want to keep him busy in the net. While Johansson might see fewer starts in net, if he can continue to be lights out, he could start stealing some of the attention away from Luukkonen. Josh Tessler

April 2018 – Jonas Johansson played another 7 games at the AHL level with Rochester where he posted some pretty lacklustre starts showing a measly 3.89 GAA and a .861 SV%. After those games Johansson was sent to Cincinnati in the ECHL where Jonas played a little better with a 3.13 GAA and a .903 SV%. Jonas made a few very nice saves using his strong glove and fast reflexes, putting them on show. He's currently played two games in the ECHL playoffs, recording a strong 2.45 GAA with a .945 SV%. The progression is coming for the 6'5 Swedish stopper, he just needs to embrace the challenge and live up to it. Marcus Griep

May 2017 – After a strong stint with the Rochester Americans, Johansson has signed an entry-level contract with the Buffalo Sabres. With Brynas, Johansson was able to win the J20 SuperElit Best Goaltender during the 2013-2014 season. Johansson has strong reflexes in the crease and can make big desperation saves. While his numbers were not the best in his seven AHL games, there were times where he made some impressive stops. A full season in the AHL, even as a back-up, should help him adjust to the tighter angles of the professional game. Max Marko

June 2016 – Johansson was loaned from Brynas IF (SHL) to Almtuna IS (Allsvenskan) in 2015-16. He was able to play 42 of teams 52 games with a record of 24-17. Being able to play a full season for Almtuna has given Jonas a chance to continue to develop overseas playing a majority of his team's games. Johansson will want to stay in the SHL next year with Byrnas IF, to prove he is capable of playing with more elite talent. Paul Zwambag

July 2015 – Johansson attended the Prospect Development Camp and looked good in the half game he split with Jason Kasdorf. Johansson stopped one of two penalty shots he faced. He ended up losing in a shootout, stopping four of seven attempts. Paul Zwambag

A large netminder who plays deep in his net, same style as countryman Henrik Lundqvist. Johansson still needs a few years to develop and has not shown he can play at an elite level, yet. 2015-16 season he proved he is a capable of starting a large percentage of games and is able to stay healthy. Johansson hasn't signed a contract with the Sabres, but because he plays overseas they didn't lose his rights at the June 1st deadline for 2014 draftees. The Sabres have until Johansson turns 22, as per the CBA rules, to sign him to a contract.