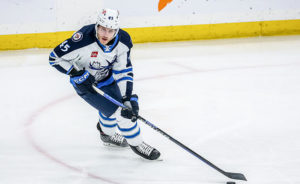 moosehockey.com
Fantasy Summary
Defense-minded fourth-line forechecking center. An injury fill-in call-up option with no fantasy upside.
Observations
Click to Expand

October 2023 – An alternate captain of the Manitoba Moose, Toninato, was recalled from the Moose by the Winnipeg Jets on October 20, 2023. Toninato has two points (one goal and one assist) in two games with the Moose this season. In 160 AHL games played, he has accumulated 90 points (49 goals and 41 assists). Toninato has played 169 NHL games, including 84 with the Winnipeg Jets, and has posted 30 points (12 goals and 18 assists). Mark Henry

August 2023 – Toninato signed a two-year, two-way deal witht he Jets. He is likely nothing more than bottom line NHL depth and should spend a majority of time in the AHL.  Pat Quinn

October 2020 – Toninato did not receive a qualifying offer and therefore becomes an unrestricted free agent.  Jokke Nevalainen

March 2020 – Toninato saw playing time in both the NHL and AHL, this season, and that's likely where he projects to in the future. Fantasy owners should consider him as a plug-and-play prospect more than a consistent role player. Keith Fries

June 2019 – Toninato has been traded to the Florida Panthers for Jacob MacDonald. Hayden Soboleski

June 2019 – 29 AHL points as a sophomore was a decent showing for Toninato, but after a season full of NHL injuries and opportunities arising, he seems to be too far down the totem pole to be fantasy-relevant. His 2 NHL games in 2018-19 was down from the year prior. He can hold his own but he needs to drive play much more to be a true contender for even a bottom-six NHL role. Currently an RFA, and may have to settle for an AHL deal. Hayden Soboleski

February 2019 – Naturally, Toninato was recalled to the Avs as an injury sub days after my previous update. He has scored his first ever NHL goal, but will still be one of the first players returned to the AHL once the team gets healthy. Hayden Soboleski

February 2019 – Unlike 2017-18 where injuries forced him into an NHL role too soon, Toninato has spent all of 2018-19 in the AHL. He is matching last year's offensive totals, but unfortunately his SOG rate is down and the team now has other bottom-six options. The 24-year-old's contract expires after this season, but he has played well enough to warrant another AHL deal. Hayden Soboleski

February 2018 – Toninato has arrived in pro hockey as advertised. The defense-first pivot tallied 12 points in 31 AHL games but has spent more time than expected in the NHL as injuries continually spring up. His single point in 15 NHL games played is certainly discouraging, but he's also seeing under 10 minutes TOI per game so this isn't representative of his future role with the club. Hayden Soboleski

Septemebr 2017 – Toninato has been assigned to the AHL to start the 2017-18 season. He showed good signs in camp of becoming a future bottom-six centerman, but right now there's too many candidates ahead of him on the depth chart. A successful first year in pro will go a long way if he can manage it. Hayden Soboleski August 2017 – After not being signed by the Toronto Maple Leafs who drafted him, Toninato has signed an ELC with the Colorado Avalanche. Toninato was recently named the Top Defensive Forward in the NCHC (the highest-regarded NCAA division), but his talents are not one-dimensional. He has scored in the double-digits in goals in his last three NCAA seasons, all while embracing bigger minutes, reducing his PIM count, and adding bulk every off-season. By all accounts, this looks like a great signing by the Avs, who are starting to shore-up their empty AHL roster. He will likely spend at least a year in the AHL (expect his real shot to come in 2018 or 2019) but his defensive acumen will make him a prime candidate to fight for a bottom-six center-ice role every year out of camp.
Highlights