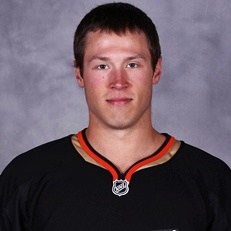 NHL.com
Fantasy Summary
Has transitioned well to the pros. Could quarterback the second PP unit in the long term.
Observations
Click to Expand

July 2019 – Welinski has signed a one-year, one-way contract with the Flyers.  Jokke Nevalainen

October 2018 – After starting the year in San Diego with two goals and five points in five games, Welinski has been called up to the big club. Anaheim wants more production from their bottom two defensemen, and Welinski can move the puck and skate. He pitched in with an assist in his first NHL game this season so look for him to keep making an impact as it looks like those last two spots are up for grabs. Lucas Main

June 2018 – Welinski played a total of seven NHL games during the season and three playoff games for the Ducks this season. He had an assist in each of his first two games but did not find the score sheet after that. He played most of the season in San Diego, scoring 10 goals and 34 points while playing on the top PP unit. Welinski can move the puck, skate, and has NHL size (6'1" 206 lbs). He has the potential to stick in the show, but as a 4th or 5th defenseman with 2nd power play duties. The Ducks top four is set, but he could make the team out of camp and with the amount of injuries the Ducks have sustained on the blueline the last couple of seasons, he could see increased minutes. Keep him on your radars if you play in a deeper league. Lucas Main

December 2017 – With the trade of Sami Vatanen and Hampus Lindholm re-aggravating his shoulder, Welinski has been called up to the Ducks. He has six goals and 17 points in 21 games in the AHL this season and played almost 17 minutes and manned the point on the second power-play unit in his debut. Welinski is a smooth skater, has smart instincts, and can move the puck. Once the Ducks get healthy he will move back down to San Diego, but Welinski is another mobile puck moving defenseman with NHL potential found by Bob Murray and co. Lucas Main

May 2017- In his first full professional season, Welinski was second on the team in terms of defenseman scoring; he recorded 29 points in 63 games. When Theodore and Montour were in Anaheim, Welinski manned the point on the power play. He possesses good size at 6-2, 200lbs and sees the game well at both ends of the rink. Anaheim seems to have a knack for churning out defenseman and Welinski could easily be the next one to make it to the show. Lucas Main

March 2016 – The NCAA hockey season is wrapping up, which means senior Andy Welinski will soon be playing hockey in the professional ranks. Through 34 games in his senior season, the veteran d-man was able to notch four goals, and add 13 assists for a point total of 17.  After four years playing at Minnesota-Duluth, Welinski managed to accumulate 17 points or more in every season. He proved he has the ability to stay composed on the blue line and quarterback a power-play unit. The maturity he has attained playing all four seasons of college hockey makes him a viable option to jump right into the professional game. Bryan Puffer

December 2015 – Welinski was named the NCHC defenseman of the week  (Nov. 30-Dec. 6) posting impressive numbers in a Minn.-Duluth sweep of Western Michigan.  The senior captain has been an anchor on the back end in all situations.  He finished the weekend 3-for-3 on the penalty kill with five blocked shots, and impressively led a power play unit that was 7-for-12. Bryan Puffer

December 2015 – Andy Welinski decided to stay in his hometown to play his senior season for Minnesota-Duluth.  In the 13 games Welinski has seen action, he's managed two goals, four assists, and a plus-one rating.  The 2011 Anaheim draft pick is hoping to lead his Minnesota-Duluth team to an NCAA Frozen Four this year, but could be jumping into the Ducks system by the end of this season. Bryan Puffer

April 2015 – Andy Welinski has been a solid player for Minnesota-Duluth, finishing the year off with 21 points (nine goals, 12 assists) in 40 games. He is currently debating whether to turn pro or to return for a senior season. Kevin Won

March, 2013 – Is adapting well to the NCAA game….Second on the team among defensemen for scoring (Univ. Minnesota-Duluth)..At this point, playing at least two more years of NCAA hockey is in his best interest. Dobber

March, 2012 – One of the younger players taken in last year's draft, Welinski is strictly an offensive defenseman at this point. He has good offensive instincts, an accurate shot, and loves to join the rush.  He had 15 goals and 33 points in the USHL this season, and will play for Scott Sandelin at the University of Minnesota-Duluth next year.
Highlights