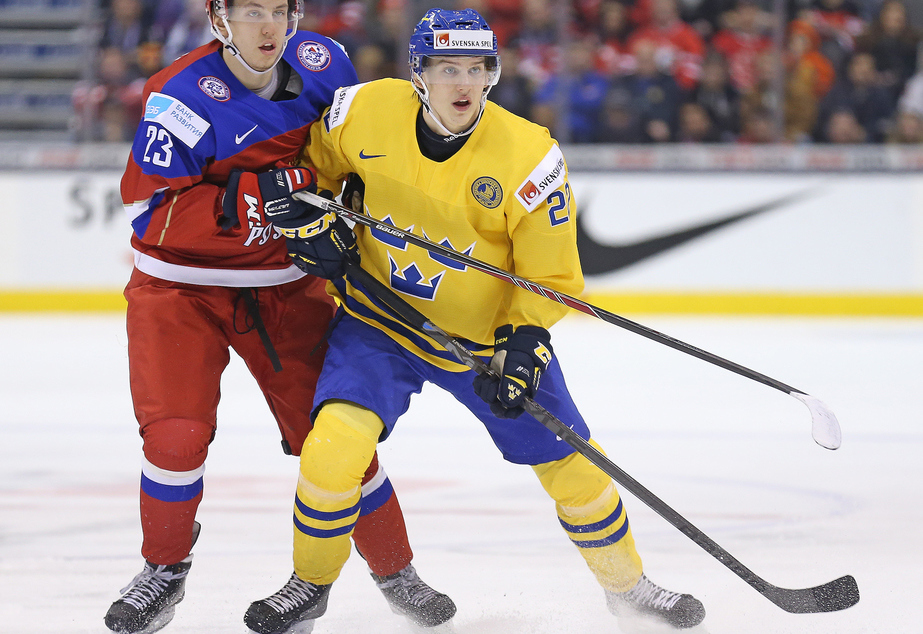 Oskar Lindblom, LW/RW

Shoots: L

Height: 6-1

Weight: 192

Born: 1996-08-15

Hometown: Gävle, SWE

Drafted: 2014 by Philadelphia Flyers, 138th overall
Observations:
April 2018 - April 2018 – After a gradual start to his offensive production, Oskar Lindblom has gone back to being rather gun shy in his first Stanley Cup playoff run. He has the skills and upside to be an offensive force, he is hiding it better than fantasy owners would like, especially given how well he has been playing alongside Jakub Voracek and Nolan Patrick. As such will make for a nice late-round flier in the Fall. No pun intended. Edric Joseph
March 2018 – In what seemed to be a truly temporary arrangement, Oskar Lindblom was moved to the Lehigh Valley Phantoms only to be called backup the same day. While he has gone pointless in his first four NHL appearances, the Flyers maintain high hopes with him and understandably so. Edric Joseph
July 2017 – With the departure of Brayden Schenn, expect Oskar Lindblom to get a long look as a primary beneficiary of all the playing time that was recently made available. While Nolan Patrick will be expected to take up that mantle in due course, Lindblom will get his chances to fill those shoes in the nearer future so as long as he doesn't disappoint in training camp. If so, he could be a sneaky play for 45 points or so if he gets a full season with the Flyers. Edric Joseph
May 2017 – Lindblom is expected to sign with the Philadelphia Flyers in the coming days. It is a hard-earned opportunity as he really flourished this past season when he found his scoring touch in the SHL after a promising start to the year with the Lehigh Valley Phantoms. In light of his stellar season he was named the top forward in the aforementioned SHL. He should get a more substantial opportunity at the AHL level in the coming campaign, if not a shot at the big club. Edric JosephMarch 2017 – Oskar Lindblom has been nothing short of terrific in his current year playing wing for Brynas of the SHL. His offense has come along but his skating still needs to be up to snuff by NHL standards. Edric Joseph
April 2016 – Lindblom came over to play in the AHL after playing most of the year in Sweden with Brynas. With Brynas, he scored 25 points through 47 games, and he transitioned to the AHL well by scoring seven points in eight appearances. Lindblom also had a successful world junior championship for Sweden, scoring six points in seven games. He likely projects to be a middle-six winger for the Flyers, but may be one or two seasons away from expanding into that role. Lee Rayson
Jan 2015 – Lindblom broke out at the 2015 World Junior Championship by tying for third in scoring for the entire tournament with nine points in seven games. He started turning heads in the Preliminary Round after unleashing a hat trick against Switzerland. The fifth round pick in 2014 will return to Brynäs IF Gävle of the Swedish League where his continued development will help determine if he returns next season or makes the jump to the AHL. Zach Hopkins
June 2014 – The Philadelphia Flyers selected Swedish winger Oskar Lindblom 138th overall at the 2014 NHL Draft. Brendan Ross
May 2014 – Rallying off three goals and six points at the year ending 2014 Under-18 World Championship was a nice way to cap off a strong draft season for Swede Oskar Lindblom. It wasn't Lindblom's only standout international performance as the big winger made noise at the Under-17s in 2013 captaining his team to a gold medal and finishing as the leader in goals (8) and points (13). He's always shown well on the international stage but his performance playing with the Brynäs J20 squad was impressive enough to earn a call up to the top Swedish league. He's acclaimed for his power forward style of game that features strong skating skills and a good net drive. Not overly skilled with the puck, Lindblom appears to be a player that will complement a line rather than carry it. Brendan Ross
Fantasy Outlook: C+
Complementary power winger with top-nine potential.
Buy the latest Fantasy Prospects Report here.
Trending Discussions
Connect with us