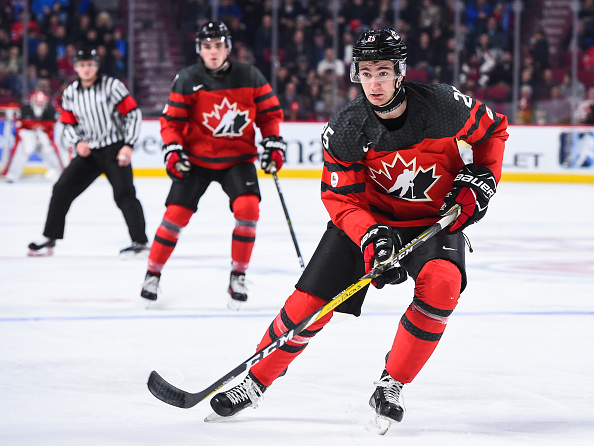 Nicolas Roy, C

Shoots: R

Height: 6-4

Weight: 203

Born: 1997-02-05

Hometown: Amos, QC, CAN

Drafted: 2015 by Carolina Hurricanes, 96th overall
Observations:
February 2017 - As one of Carolina's highest-upside prospects, Roy has not missed a beat since returning from the World Juniors. He has 18 points in his last eight games, including seven in two games since the calendar turned to February. His scoring pace for Chicoutimi is slightly up for a year ago moving from 1.42 points-per-game in 2015-16 to 1.55 so far this season. Hockey fans everywhere were able to see Roy's all-around game at the WJC's as he was one of Canada's most consistent forwards at the tournament. Kevin LeBlanc
June 2016 – Roy took a big step forward in his development during the 2015-16 season. He potted a league leading 48 goals for Chicoutimi while remaining one of the leagues top face-off men. The two-way center signed a three-year entry-level contract with Carolina in April. Kevin LeBlanc
November 2015 – Nicolas was a player that stood out to me at this summer's prospect camp in Raleigh. He already has an NHL frame that he will continue filling out with muscle, and looks to be a potential steal for the Canes in the fourth round of the 2015 draft. The former first overall pick in the QMJHL had a decent season for Chicoutimi last year, but appears to be breaking out offensively in 2015-16 as he takes on a larger role for the Saguenéens. After tallying 50 points last season, Roy is on pace for close to 100 this season with 27 points in his first 19 games. Kevin LeBlanc
June 2015 - Projected as a potential second-round selection, the Carolina Hurricanes selected Nicolas Roy with the 96th pick of the 2015 NHL Entry Draft. Brendan Ross
March 2015 - Drafted first overall at the 2013 QMJHL draft, Nicolas Roy was an absolute force at the Under-17 tournament for Quebec looking like a bonafid number one centerman. More recently, Roy has played more as a two-way pivot, demonstrating high levels of hockey sense, a determined 200-foot pursuit and the size and power to wear down opposing teams. His production has been all over the map but that could also be chalked up to Chicoutimi's awful goals for totals. Offensively, Roy tends to error on the side of caution committing to his defensive assignments rather than pushing for offensive chances. It is this tendency that suggests he may be more comfortable carving out a bottom-six role than an offensive one. Whether you consider Roy a 1st line player or two-way presence in the top-nine, he holds good value as a future NHLer; Brendan Ross
Roy's breakout season proved he has the ability to be a top-six player in the NHL if he continues to develop.
Footage:
Nicolas Roy 2014-15 Season :
Nicolas Roy – Shift by Shift (with commentary):
Buy the latest Fantasy Prospects Report here.