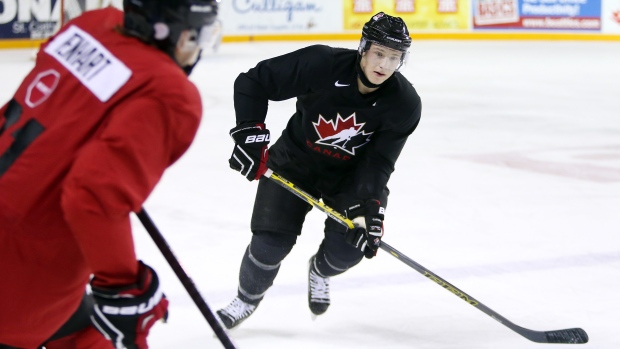 Joe Hicketts, D

Shoots: L

Height: 5-8

Weight: 187

Born: 1996-05-04

Hometown: Kamloops, BC

Drafted: Signed as an undrafted free agent by the Detroit Red Wings, 2014
Observations:
January 2018 - Hicketts has not taken a step forward so far in his second year of pro hockey for the Grand Rapids Griffins. However, he did impress the Detroit Red Wings in the preseason. With the big club struggling and full of veteran defence, it would not be surprising to see Hicketts get a call up sooner or later. Stay patient with Hicketts. His skill-set, hockey sense and drive more than make up for his short stature. He remains a potential NHL power play quarterback. Mark Hillier
June 2017 - Hicketts faced speed bumps in his first year with the Grand Rapids Griffins of the AHL but has shown the ability to learn and adapt to this new environment as the season has progressed. What he lacks in size he more than makes up for by playing a fearless, incredibly competitive style. According to veteran teammate Nathan Paetsch, "He may be our shortest player but he's also our biggest hitter". Offensively, Hicketts makes a crisp, accurate breakout pass and excels in the offensive zone. His ability to maneuver the line in combination with his dangerous point shot makes him a potential power play QB at the pro level. Hicketts made solid strides last year but will likely need a couple more seasons of fine tuning in the AHL before challenging for a spot on the Detroit Red Wings. Jameson Ewasiuk
December 2015- Joe Hicketts once again sits atop the WHL scoring list with a point-per-game pace (2G-27A-29PTS in 28GP) as we near Team Canada's World Junior Camp and once more he's the lone undrafted player to be passed over in camp. Hicketts was a nice surprise albeit well earned addition to Team Canada's gold medal 2015 entry and his skill and experience well be a valuable addition to their 2016 team that projects to only have three returning players (Hicketts, Lawson Crouse and Brayden Point) with the potential for a fourth(Jake Virtanen- Vancouver NHL) from the reigning champions available. Look for Hicketts to lead the rather young Canadian squad which will be littered with 18 year olds from the back end in all situations and be a key cog in helping shut down the opposition and ignite Team Canada as they look to capture their first Gold Medal on European soil since 2008. Travis Watson
April 2015- The 2014-15 Regular Season has come to a close and it's been a season of many highs for Victoria's Joe Hicketts. Hicketts started the year on a high earning a three year entry-level contract after a solid camp with the Detroit Red Wings, he carried that momentum and confidence with him with a blistering start to the 2015 campaign helping him earn a spot on Canada's 2015 Gold Medal winning world junior team. He didn't stop there either as he continued to display a level of excellence far beyond his years which made him a deserving member of the 2015 WHL Western Conference second team All-Star team. Hickett's finished his season as the second overall defenseman in scoring with 64 points (12G-52A) setting some Victoria Royals records for defenseman along the way (52 assists and 27 powerplay assists). The Royals are currently in a bind down two games to none versus the powerhouse Kelowna Rockets and they will be hoping Hicketts can help lead the charge back with his formidable end-to-end play from the backend. Look for this young reargard to head back to Victoria for another season where he will use his leadship and experience to help build Victoria into a contender and also help stave off the competition in 2016 in what Canada hopes to be a repeat performance at the World Junior's in Finland. Travis Watson
December 2014- Joe Hicketts is a real dynamic talent who plays a complete 200-foot game for the Victoria Royals of the WHL. The Kamloops, BC native is one prospect who's probably increased his value the most of any other over the past six months. Hicketts impressed the Detroit Red Wings brass during his development camp invite enough to warrant a three-year entry-level deal and it looks like a shrewd move. He's elevated his play this season and sits as the current highest scoring CHL defenseman coming into the holiday season. As a result, he has forced himself into Team Canada's top six for the 2015 WJHC. He's a real offensive dynamo from the backend capable of creating offense at any moment. Hicketts has tremendous hockey IQ and has proven to be quite deadly on the powerplay. Hicketts has shown considerable promise over the past six months, but needs to kick the injury bug and prove more durable. One of the main reasons he went undrafted is because he had to go under the knife for shoulder surgery which led him to ballooning up to 200 pounds which really affected his game and led him to being held off the final NHL Draft Prospect rankings. Hicketts gets the last laugh and now all 29 other teams who passed him by will get to watch him work on the world stage of the 2015 WJHC. Travis Watson
Fantasy Outlook: C+
The obvious comparable being a Red Wings prospect and undersize is Brain Rafalski, but he will have a long ways to go to reach the status of one of the USA hockey's most accomplished rearguards.
Footage:
Hicketts pounces on the loose puck and shows off his impressive hands on this overtime winner:
Buy the latest Fantasy Prospects Report here.