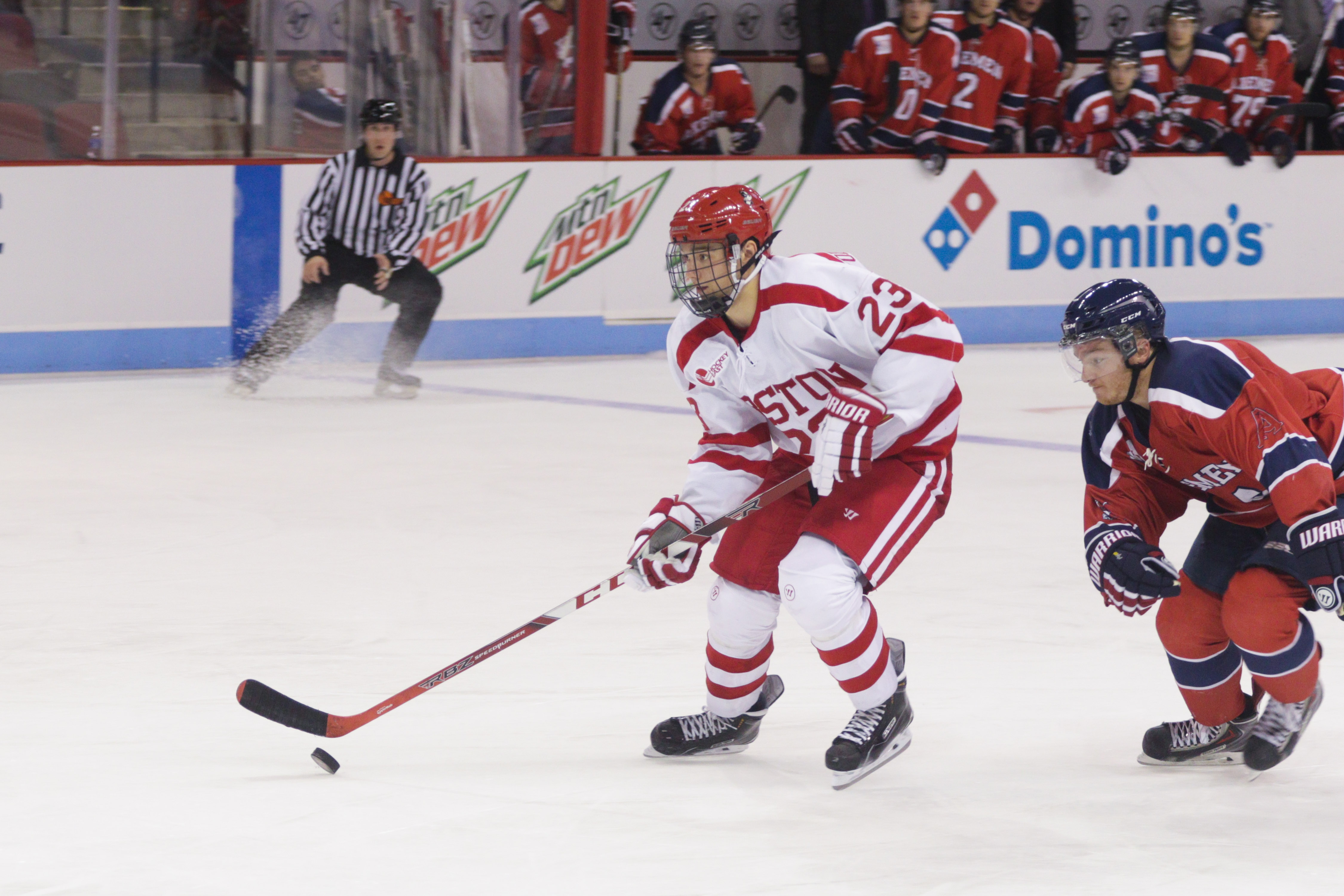 Jakob Forsbacka-Karlsson, C

Shoots: R

Height: 6-1

Weight: 190

Born: 1996-10-31

Hometown: Stockholm, SWE

Drafted: 2nd round, 2015, Boston, 45th overall
Observations:
September 2017 – JFK is a talented offensive player but his responsibility in his own zone is what separates him from the other prospects of his age. The Bruins got JFK into a game at the end of last season and while he didn't get much ice-time he surely would've had a taste of what was to come in his young career. While JFK isn't the total package at this point in his development he does have all the tools to be an elite shut-down forward with strong offensive upside. His main competition for a job this season will be Sean Kuraly, and they will both be fighting to secure the spot in the roster recently vacated by Dominic Moore. While JFK likely has more upside, Kuraly has more experience and may be more NHL ready. Mike Drover
February 2017 – JFK is having a quietly successful season for the Boston University Terriers. Karlsson has 11 goals and 14 assists through 29 games so far this season, appearing in each of BU's games thus far. While on the surface these stats seem perfectly fine, a deeper look shows that Karlsson is shooting at an unsustainable 19% on the season, and appears to be the beneficiary of some good puck-luck. At only 57 shots for the season we'd like to see JFK shoot the puck a bit more if he is going to become a fantasy relevant scorer. -Mike Drover
December 2016 – Jakob Forsbacka-Karlsson is continuing his solid play for Boston University. The two-way center has been effective for the Terriers so far this year, potting three goals and adding ten assists in only 14 games. JFK will never be a volume shooter as it isn't part of his game, but if he can chip in this much offence while being solid defensively he will find his way into the NHL eventually. JFK will likely stick with BU for another year or two before making the jump. Mike Drover
March 2016 – He's still a few years away from playing in the NHL but Forsbacka-Karlsson is impressing Bruins staff with his progress. The 19-year-old Swede had a strong showing at the WJC in January and has tallied 19 points in 38 games with Boston University this year. Last month, teammate and fellow Bruins prospect Matt Grzelcyk even christened him 'Patrice Bergeron 2.0'. The two-way forward has a ways to go before living up to that proclamation, but it's another sign that JFK may have a future as an NHL impact player. Michael Boeckler
June 2015 – The Bruins have a bunch of quality prospects ahead of Forsbacka-Karlsson - many from this draft alone. So expect at least three years and likely five when it comes to wait time. Dobber
June 2015 – Forsbacka-Karlsson is a two-way center who has really turned up his game playing for the Omaha Lancers of the USHL the last two seasons. In 110 USHL games, he has recorded 86 points, 60 of those being helpers. While he does have impressive offensive talent, his passing and vision on the ice will make him a popular teammate to play with. Don't let his offensive moves fool you though; his defensive game is just as good – if not better. A smooth skater, he looks to be a second-round projection in the 2015 Entry Draft. Zach Hopkins
With consistency and improved skating, he has the tools to be an effective two-way center in the NHL.
Footage:
Buy the latest Fantasy Prospects Report here.