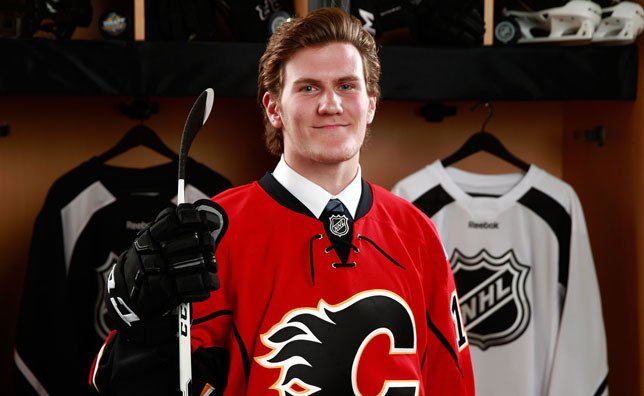 Drafted:2016byCalgary, 66thOverall
Observations:
Jan 2018 - Fox looked inpressive during the WJC for Team USA. He was one of the brightest spots on the team. Honestly, scroll on and see the comments that were made about Harvard's potential this season. They lost some significant firepower up front so it's expected that Fox's numbers are where they are. If anything, it makes him more acquirable via trade. Get to it. - Joel Henderson
July 2017 - Mr. Fox's production began to slow down near the end of the year but his 40 points in 35 games is still insanely impressive. His role should increase for Team USA at the WJC but his first half point totals might be a big lower due to the strength of Harvard. If you notice him struggle in the first half of the year, that might be a chance to acquire him in a trade in your deep leagues. On the other hand... if he's still available he has a ton of potential in deep points only leagues. Get him while you can. - Joel Henderson
Jan 2017 - Fox finished second in defensive scoring with four assists in seven games duriung the WJC 2017. He also continues to add jewelry to his international accomplishments. Overall, he showed off his vision well by his creative and timely passing, but also sat for periods of time for defensive lapses. You can be confident that Calgary Flames are happy with this 2016 selection. - Joel Henderson
Dec 2016 – The list of accomplishments Adam Fox has under his belt already is long. He led all USNDTP Under-18 defensemen in goals, assists, as well as points in 2015-16 with 59 points in 64 games. He holds the single season record for points by a dman, and sits third all-time in USNDTP history by a blueliner. He was the 2016 U18 WHC best Defenseman, voted to the all-star team by media, etc etc etc. He is currently putting up stellar numbers as a rookie for Harvard.
Fox is an offensive wizard. He finds ways to gather assists like the greatest easter egg hunter. He plays with a confidence and authority that is hard to miss. His stickhandling, vision, ability to get shots through quickly from the point are elite in his draft class. Being an offensive, right-handed shooting defenseman, it's surprising that he lasted as long as he did in the 2016 draft. He has all of the tremendous skills you'd want from an offensive minded player. If you're into effective breakouts, smart zone-exiting passes, and someone not afraid to join the rush or cycle the puck deep, he's your guy. Fox is always a huge asset on the PP, creating havok simply by not spending much time in his own zone. His top end speed could improve, but his edgework and skating in traffic are solid. He is reliable defensively too, but he may need to work on that aspect a bit when he transitions to pro. Harvard will be a good place to slowly improve skills.
Fox is one of the sneaky fantasy assets of the 2016 draft. His value is only sneaky though, if you focus on the first-round prospects. He continues to drive the pace of offensive production at every level and that should continue once he turns pro. There is no reason to sleep on Adam Fox, you might just have to wait a little bit for him. Once he turns pro, it shouldn't be an immediate jump to the NHL. Expect at least a year in the AHL as he will have to prove his worth at every level. He is a PP specialist with the potential for much more. - Joel Henderson
Real potential to be a Top-4, Elite PP specialist.
Trending Discussions
Connect with us