What Happened to the Aatu Räty of 2018-19?
Josh Glazer
2021-03-26
Not too long ago, Aatu Räty was perceived as the top player in the 2021 NHL Draft. While he was never looked at as a McDavid or Matthews caliber player, he was nevertheless considered the best player in his age group. When the 2020-21 season rolled around, however, he quickly became a fringe Top-10 player on most rankings, in part because of names like Matty Beniers and William Eklund performing so well, but also because his play has matched that of a player bouncing between the Liiga and the U20 league in Finland, struggling to produce at the professional level.
This sudden drop in draft stock made me examine his play over a three-year period, and after a few viewings, the question became: What happened to 2018-19 Aatu Räty?
What The Numbers Show
If we look at his statistical output over this 3 season period, we notice that Räty's point production hasn't just stagnated, it's decreased season-to-season, which is already a bad sign for a player going through some of his most crucial developmental seasons. Two seasons ago, his U20 production was hanging with names like Laine, Rantanen, and Barkov, but he hasn't been able to match their pace since then at the next level.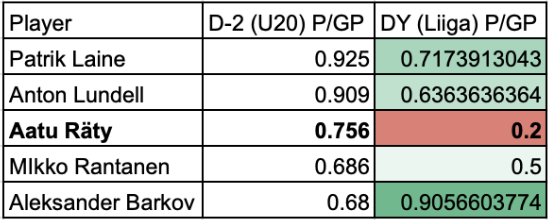 Statistical analysis is nowhere near the most effective way to evaluate any player, let alone prospects in their teens, but this monumental difference between Räty and the most prominent Finnish players and prospects that produced around his level in their D-2 is hard to ignore.
Räty's On-Ice Evolution
Building a timeline dating back to 2018-19, we start to notice a few reasons Räty hasn't maintained 'first overall' status. Back in the 18-19 season, there's a lot to like. The player we're watching is one that is obviously very skilled, and he knows it too. Räty is dominating play in the offensive zone, he loves having the puck on his stick and he's doing well to bring the puck to scoring areas. The aspect of his offensive game that was most likely to translate well when he moved to the next level was his great shot, which he could pinpoint and that came off his stick quickly. He was also a force on the power-play, running the unit from both half-walls throughout the season, finding ways to inch towards dangerous areas to fire off a wrister. Another aspect of his game that stood out was how well he manipulated the opposition in transition. He seemed unbothered by nearby defenders and let his quick hands and shot do the work for him, as we see here:
The combination of high-level shooting and ability to get to good areas as a puck-carrier made him score more goals than assists, and his overall point totals were eye-catching. With that being said, his goal totals overshadowed two things that have left him struggling in a professional league that requires as much mental skill as it does physical skill: Scanning for options and making smart plays with the puck on his stick, and being an option for his teammates with the puck off his stick.
In the last two seasons, he has developed a certain level of unwillingness to bring the puck to high-danger areas, both as a puck carrier and as a passer. It seems as though his most consistent touches are through high cycles that he forces when there are better options available. However, whether it's cycling or on the rush, we just aren't seeing high danger Aatu Räty anymore.
Many clips could display the issue at hand, but none more than this one. If we watch this clip closely, the defender cheats towards Räty's teammate cutting wide, positioning himself nicely for Räty to drive the middle lane and get a terrific chance. Instead he forces the play wide, almost lunging just to get this pass off, and it ruins a great opportunity to tie the game.
Stating that Räty is content on the perimeter is not just the eye test, either. If we compare his last three seasons, we can pinpoint the exact reason his goal total has dropped off. While his shot attempt totals have been nearly constant throughout all 3 seasons, his high danger shot attempts have not:
Back when Räty was scoring consistently, he was also getting to good spots consistently. His 38 high-danger chances in 2018-19 are more than the totals he put up in the next two seasons combined (14 each). This drop in quality chances explains the equivalent drop in point production we've seen, and it's a major reason his draft stock has fallen.
As it stands, Räty seems afraid of pressure, and it's resulting in less time to scan for options and therefore resulting in those low-danger chances he seems content with. To translate his U20 game to the professional level, Räty needs to better gauge oncoming attackers and realize he has more time to make the right play than he thinks. His combination of puck protection ability and quick hands make for a player who should be able to dominate 1-on-1 battles and give him more time to make decisions, but instead, we're noticing an ultra-conservative style of play involving little to no patience and a fear of making mistakes. To make the NHL, on a smaller ice surface with even less time to make decisions, Räty is going to need to learn by making mistakes and understand how to use his physical skills to his advantage when facilitating as a puck carrier, as he's already figured out that he can't do everything on his own.
To encapsulate, 2018-19 Aatu Räty knew he could get good chances on his own, and it meant that he didn't need to use his teammates as much. Once he got his first promotion to the Liiga, his offensive ability took a hit, because higher levels of competition meant it was harder to be individualistic. On top of struggling to utilize his teammates as much as expected, he's not as confident in his own abilities, so we aren't seeing him manipulate defenders in transition, drive the net as a puck carrier, or create high-danger chances.
The jump to the professional level was one that was not ready for in 2019-20, and while it was a good way for him to gauge his weaknesses against better opponents, it has left him trying to figure out ways to stick in a league that other top Finnish NHL draft selections excelled in at his age. Whichever team decides to draft him in July is going to need to show patience and understand mental development is the most important aspect going forward.
For more on the game of hockey in Finland, be sure to follow @jglazer9 on Twitter!
LATEST RADIO & DRAFTCASTS