MHL Report: Ovchinnikov and Rangayev
Dylan Griffing
2020-03-18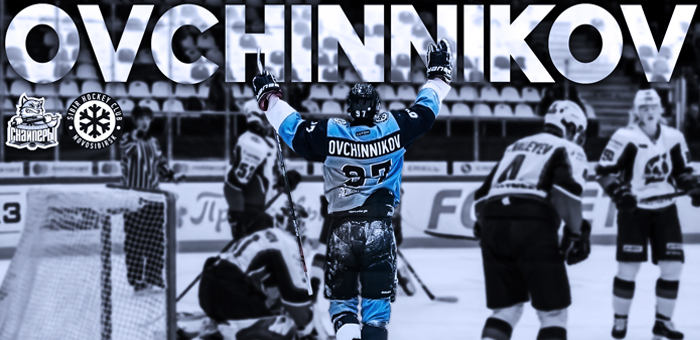 With a real lack of hockey content now, it's a great time to start looking back at the 2019/20 season. I'll be taking a look at some of the best 2020 NHL Draft prospects playing in the MHL as we approach draft time, and I'm starting it off with two of my favorite players in this class.
***
Dmitri Ovchinnikov, LW/C – Sibirskie Snaipery
Player Information courtesy of Elite Prospects
Dmitri Ovchinnikov had himself quite the year for Sibirskie Snaipery. He led all U18s in the MHL in points with 55 in 54 games. What makes Ovchinnikov so special is his diverse game and how well he adapts. Throughout the season, he moved around the Sibirski lineup a lot. Towards the start of the season, he was sitting as a third-line winger, but as the season reached its end, he was centering the first line. He is a very dynamic, fast, and smart player, which is a really great combination. Ovchinnikov does not get much attention, due to the fact that he plays in the Eastern MHL conference, but he really is someone to keep an eye on.
To start, Dmitri Ovchinnikov (#97) is easily one of the quickest skaters in this draft class. In the clip above, you can see why he is such an impact player on the powerplay, as he speeds straight through the Snezhnye Barsy forecheckers, but his teammate, Nikita Potapov (#34), failed to stay onside. Ovchinnikov uses his speed to be a fantastic play driver and backcheck effectively. This makes him an incredibly dangerous forward, as he never falls behind the play and is constantly trying to get the puck back into the offensive zone.
When I say Ovchinnikov is a high danger player, I mean it. He isn't afraid to head to the boards to retrieve the puck and move it out to his team. In the clip above, you can see just that. He makes a nice defensive play and then finds Kirill Zatonskikh (#90), who is able to break the puck into the offensive zone. Ovchinnikov doesn't end the play there, though, as he chases the puck down behind the net, recovers it with a stick check, and then makes a perfect pass to his open teammate and gets an assist. His ability to use his speed and defensive prowess to gain possession allows him to create chances for both him and his team. 
Before I touch on his last major upside, the elephant in the room must be brought up. Like a lot of Russian players heading into the draft, Ovchinnikov's size has come to be an issue. This was pronounced more in his two KHL games, and he even said it himself in an interview after his second game, "I immediately felt that KHL is an absolutely different level. I must gain a lot of weight and continue to work." (translated). This is a reason why a lot of scouts and coaches write him off, but there's still no reason to worry. He is one of the youngest players in this draft class, which means he still has plenty of time to add more weight on. This summer, he will be training with the main KHL team, Sibir, which will allow him to get bigger and stronger for the pre-season.
Perhaps the most dangerous aspect of his game is his killer shot. Ovchinnikov has a knack for getting into the high danger areas which is why he finished the MHL season with 24 goals. Even with how much of an asset he is on the powerplay, 21 of those 24 goals came during even-strength play. In the clip above, he gets two very high danger scoring chances. Although he misses the net on the first attempt, he gets it back and slaps it home on the second try. As the year progressed, a noticeable change was his shot accuracy. Towards the start of the year, he really put all of his power into his shots, which is great, but he was missing the net quite a bit. As time went on, he sacrificed some of that power to get more accurate shots off, but don't get it twisted, he still has a deadly release. 
Dmitri Ovchinnikov has proven that he can take his skills to the next level in his two KHL appearances. In his first game, he was on the ice for just under three minutes and picked up a hit, a blocked shot, and a high danger scoring chance. His quick skating exceeded expectations, as he was out skating his opponents at all times, and was skating fluently with the puck, too. In his second game, he had 3:27 TOI and spent over half of that time defending in his own zone. On paper, his impact was minuscule, but he was holding his own defensively. 
Ovchinnikov is a very under-the-radar player, as he plays in the weaker Eastern MHL conference, but he is someone to not take lightly. He almost had his big break recently by getting called up to the Russian WJC-18 team, but due to the COVID-19 outbreak, he was forced to return to Sibirskie Snaipery, who were already out of the playoffs. A good performance at the WJC would have brought him the attention he deserves and improved his draft stock marginally. Now, however, he will likely end up going anywhere from round four to round seven, which, in my eyes, could make him one of the biggest steals in this draft.
***
Stanislav Rangayev, LW/RW – Ladia Togliatti
Player Information courtesy of Elite Prospects
Skill, strength, and smarts are what really define Stanislav Rangayev's game. He took on a crucial role for Ladia Togliatti and led all forwards in ice-time this season. He's a very impactful player who drives offensive play very well but still leaves some to be desired when diving deep into his game. 
Rangayev (#22) is a really good skater, but where he lacks in straight-line speed, he makes up for it with his power. He is bigger than most Russian prospects, which allows him to keep possession when defenders attempt to knock him off. In the clip above, he breaks the puck into the offensive zone and evades the hit from the Sarmaty Orenburg defenseman. A sneaky high-end part of his game is also displayed here, as after Nikolai Petrov (#65) gets the puck away from him, Rangayev reads the play and stays back to intercept Petrov's pass around the boards and makes an accurate pass to his teammate. He gets a return pass, and once again displays his hockey IQ, by patiently waiting for the passing lane to open up just enough to find Danila Lotov (#14) for the goal.
His pure speed may grow to become a problem if he makes the move to North America before ironing it out. Of course, it's not impossible for slower skaters to make an impact. Cole Perfetti, for example, is considered a "bad skater" by some because of his straight-line speed, but he has incredible hands to make up for it. Stanislav Rangayev's way of making it up is his strength and ability to power off defenders. However, he's still only 165 pounds, which isn't really "big" by KHL standards. With time, we will see if he can make the jump and if his strength will translate.
Rangayev finished the MHL season with 32 points in 48 games, which isn't spectacular, but 24 of those points have come at even strength. He ranks as the 14th highest even strength primary points per game played of all DY players in the MHL, and 13th in primary points per game. His 22 goals would make it seem like he's an out-and-out sniper, but he is really more a well-rounded player than the stats suggest. His passing is incredible because he waits for the perfect options and is very accurate when he finds the lane. 
It would be a crime to ignore his goal totals, though. He doesn't necessarily have a 'dangerous' shot, but his shooting is very effective. He magnetizes towards the crease and waits for the pass. Here, Stepan Steshenko (#88) makes a fantastic move to create the space, and Rangayev was awaiting the pass and put it home from close in. Taking the most effective shots from dangerous areas makes Rangayev a threat whenever he puts himself in a position to score. While averaging 2.17 shots per game, he finished the season with a 21.15 SH%, which ranked 6th out of all DY players in the league. 
Defensively, Rangayev holds his own. He isn't a two-way dynamo by any means, but he makes the plays he needs to make. An active stick and a willingness to throw his body around make it easy for the winger to dispossess the opposition. A noticeable issue is that he often becomes stagnant in the defensive zone and allows passing and shooting lanes to open up around him. Rangayev is a smart player but shows glimpses of misunderstanding what he needs to do in certain situations. Floating around the defensive zone and allowing play to develop is an issue that certainly needs to change before he takes the next step.
With all that said, Stanislav Rangayev is a very fun player to watch. His hockey IQ is on another level and he will be able to provide goal scoring to any team he may end up with. There are obvious flaws in his game, but as a late-round pick, there is a lot of potential here.
***
Dylan Griffing (@Dylan_Griffing)