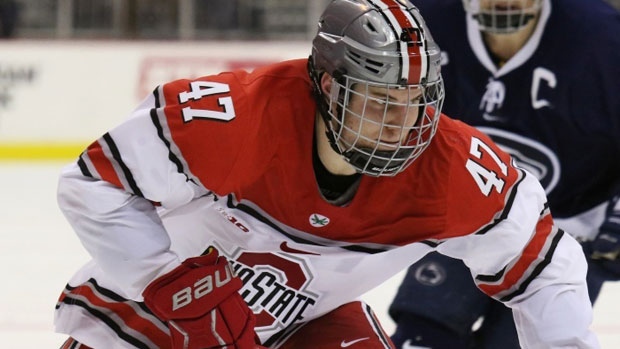 Josh Healey, D

Shoots: L

Height: 6-1

Weight: 205lbs

Born: 1994-07-14

Hometown: Edmonton, AB, CAN

Signed: 2yr Entry level out of Ohio State, NCAA
Observations:
Oct 2017: Nothing much has changed for Josh Healey except it can be noted that his skating is noticibly fine vs AHL competition but he has yet to move up the lineup. The reason to watch for him is that he brings a lot to the table that other CGY D prospects don't in terms of his physicality and grit. I can't see CGY pulling him up unless there are significant injuries to Stone or Hamonic and they feel Bartowski is struggling too much (which he is). Healey provides deeeeeeeeep fantasy value in roto leagues. That's about it at this point. If you own him in a fantasy league, you certainly shouldn't right now. - Joel Henderson
April 2017: The kid has edge and toughness which is severely lacking in the Flames system. Healey attended Calgary's development camp in the summer of 2016 but had a difficult time truly standing out. Flames management kept tabs on him for various reasons including his ties to Alberta, his aggressive playing style, his work ethic, and the fact that his fitness testing was one of the best during that summer showcase.
Josh has a lot of edge to his game. He shoots left and plays left which presumably fits a future opening for a bottom pairing spot at some point. He was dominating the game from a physical side of things, and had his best offensive campaign by collecting four goals and 21 assists with a whopping 70 PIMS. It would be surprising if he was in the NHL next year and with the Flames system it might be tough to hurdle the talent, but he is a super deep fantasy option to add significant hits, grit and PIMS. - Joel Henderson
Fantasy Outlook: C-
Footage:
Series of compiled Healey hits.
Buy the latest Fantasy Prospects Report here.